Higher Degree Pathway at APU for PSDC Scholars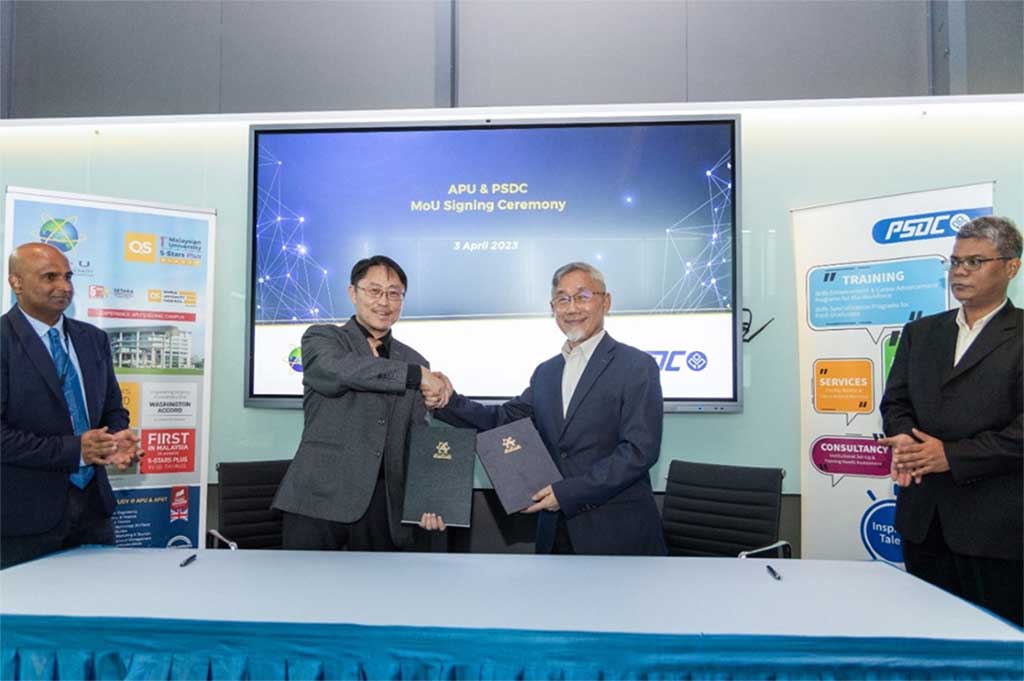 KUALA LUMPUR, 3rd April 2023 — Penang Skills Development Centre (PSDC), Malaysia's first tripartite, industry-led skills training and education centre, and Asia Pacific University of Technology & Innovation (APU) have cemented a collaboration to provide bachelor's degree upskilling pathways for PSDC engineering diploma students.
Aside from gaining maximum transfer of credits, PSDC diploma students have advanced pathways entry options into Year 2 of APU Bachelor of Computer Engineering with Honours, Bachelor of Engineering in Electrical & Electronic Engineering with Honours, or Bachelor of Engineering in Mechatronic Engineering with Honours.
This initiative is part of PSDC and APU's objective to nurture and educate the next generation of engineers that meet the industry's needs.
The collaboration also fulfils Goal 4 of the United Nations Sustainable Development Goals (UNSDG), Sustainable Development Goals: Ensures inclusive and equitable quality education and promotes lifelong opportunities for all.
The collaboration was formalised by PSDC Chief Executive Officer Mr. Tan Eng Tong and APU Vice Chancellor Prof. Dr. Ho Chin Kuan witnessed by PSDC Senior Manager Mr. Mohd. Hisham Abdul Mutalib and APU Deputy Vice Chancellor Prof. Ts. Dr. Murali Raman.
PSDC Management Council Member Ir. Ts. Bernard Lim, APU President Dr. Hari Narayanan P. Ondiveeran, APU Chief Operating Officer Mr. Gurpardeep Singh, APU Senior Director, Student Services and Marketing Mr. Muhammad Anis Ur Rehman, APU Head School of Engineering (SoE) Assoc. Prof. Ir. Dr. Siva Kumar Sivanesan and APU Head of Career Centre & Alumni Connect Dr. Sryee Inthran also attended the ceremony.
PSDC has trained more than 250,000 industry workers through more than 13,000 courses, and APU transforms students into highly employable, competent, and future-proof professionals.
According to Eng Tong, as a premier training institute in Penang for over 33 years, PSDC always looking for best-in-class partners who matches their DNA and can develop a suitable curriculum based on engineering training, so that their students can develop the right skills needed in today's fast-changing world.
"We focus on the training and skills the students need to get started, and PSDC provides these students with opportunities and skills so that when they graduate they will get jobs in factories and companies in Penang," he explained.
All PSDC Diploma graduates who seek employment get job offers before they graduate, based on the skills they acquire at PSDC.
Meanwhile, Dr. Hari stated that PSDC and APU have similar visions and purposes, and both are well aligned, allowing them to utilise this opportunity to leverage each other.
"Our students are our product, so we make sure every student gets the best quality education and develop them into future professionals with 100% employability," he concluded.
Through this MoU, APU offered PSDC students a 25% of credit transfer for Bachelor of Computer Engineering with Honours followed by 22% for Bachelor of Engineering in Electrical & Electronic Engineering with Honours, and Bachelor of Engineering in Mechatronic Engineering with Honours.
The total percentage of credit transfers given to diploma students enrolling in APU bachelor's degrees is the highest ever offered, ensuring a smooth flow of engineering programmes with improved modules in line with the Industrial Revolution 4.0. (IR4.0).
With this collaboration, students enrolled in PSDC engineering diploma programmes and continuing to APU degree programmes will complete their studies in 5 1/2 years — three years for the PSDC diploma and progress to APU to complete Year 2 (partial completion for unmapped modules), Year 3 and Year 4 of the Engineering Degree Programme, based on existing Malaysia Ministry of Higher Education (MOHE), Malaysian Qualifications Agency (MQA) and Engineering Accreditation Council (EAC) regulations.
Aside from this, PSDC Diploma engineering students will gain professional qualifications, recognised and respected worldwide, enhancing their career prospects after graduating from APU's Engineering Degree Programmes.
The partnership between PSDC and APU will also pave the way for other long-term collaboration in relation to short courses, certification in IR4.0 core technology areas, and potentially in postgraduate programmes offered by APU, in light of both institution's commitment towards lifelong learning aspirations skills development for the nation.
"With this partnership, we give another pathway to our aspiring PSDC students who want to pursue a course in higher education at one of the best universities known for technology and innovation."
"The capabilities and reputation of APU are well known, and we look forward to working with them more closely in the future," he added.
© 2023 Penang Skills Development Centre (PPM-007-07-16111989)