PSDC Quality Assurance Policy
Last Updated:

19 August 2022
PSDC strives to provide quality education and training to develop Malaysia's work force to meet the needs of the industries through
A commitment to comply with regulatory and industry requirements,
Continually improving the effectiveness of our Quality System,
Practical industry applications,
Up to date training facilities, and
Experienced teaching resources.
School of Engineering Quality Assurance Division
The SOE Quality Assurance (QA) Division is entrusted with the task of establishing, managing and monitoring the quality assurance system of the programme regulated by Malaysian Qualifications Agency (MQA).
It is tasked to be responsible in the following functions:
Accreditation
Coordinate and perform vetting on accreditation documents
Carry out preparation audit prior to accreditation visit
QA Publicity and Training
Organise quality-related activities and disseminate news/resources on good practices in QA to create awareness and promote quality culture
PSDC Quality Assurance Objective
Promote and establish a culture of quality of SOE PSDC
Provide a learning environment conducive for quality teaching and learning via

Provision of staff development to enhance customer satisfaction
Continuous improvement from feedbacks

To assure the quality of all programmes fulfil the standards and criteria of the institution and implement the national qualification framework as a reference point of qualification.
Procedures and Work Instructions
Formal procedures and work instructions for programme design, approval, monitoring, review and continuous improvement are established based on Malaysian Qualifications Agency's guidelines. They are properly documented and disseminated because it is imperative to ensure the effective planning, operation and control of the institutional processes.
Established and documented procedures, work instructions and guidelines include the followings:
Administrative
Control of Documents

Filing System of Student Record
Filing System of Examination Document

Control of Quality Records
Admission and Student Selection Policy

Enquiries Handling
Student Recruitment
Academic
Teaching Plan Process
Final Exam Paper Process
Course File Process
Teaching and Learning Process
Remediation Process
Internship Process
Final Year Project Process
PSDC SoE Quality Assurance (QA) Organisation Chart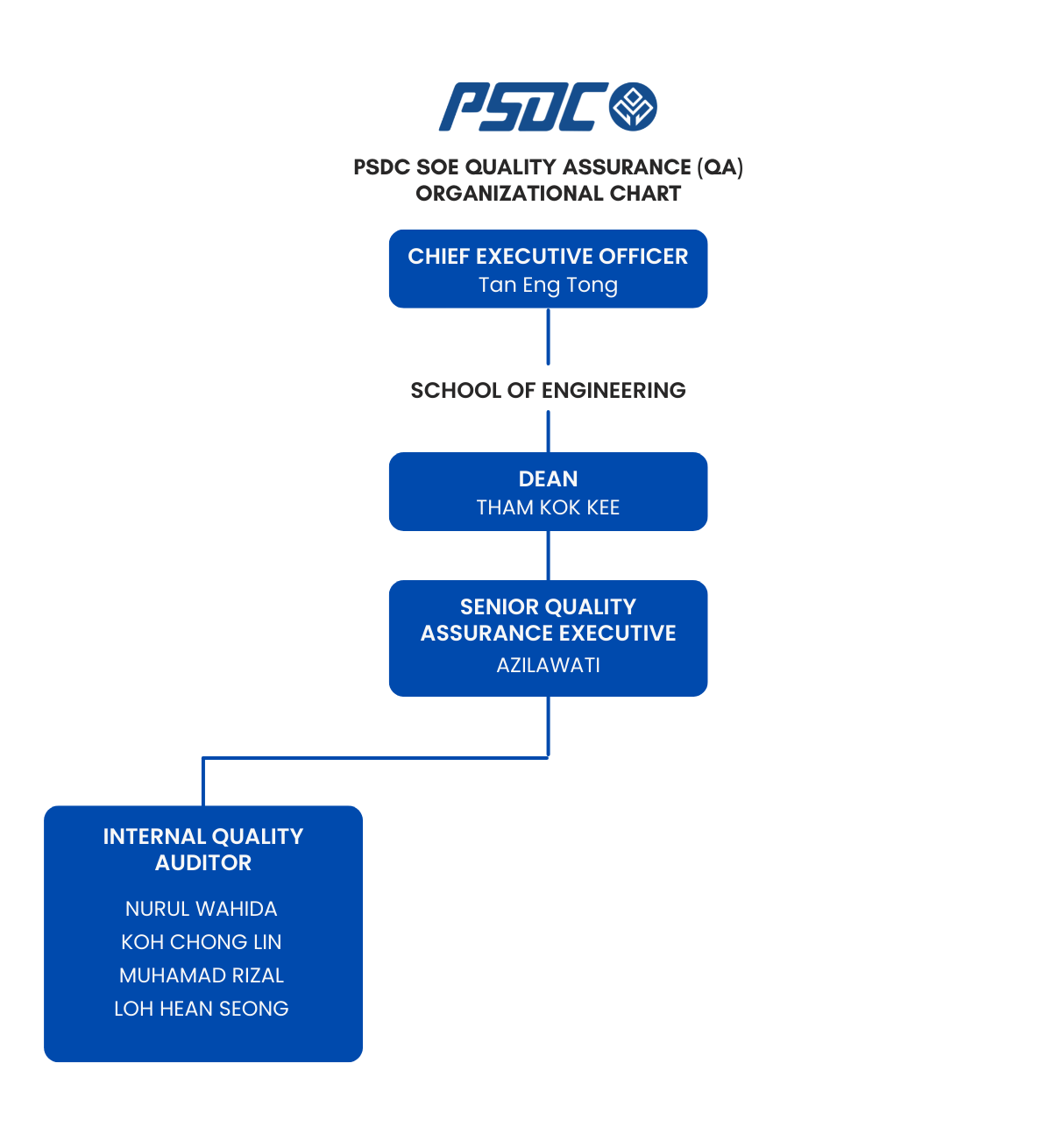 External Examiner
PROF. IR. DR. HIN YONG WONG
| | |
| --- | --- |
| FULL NAME | PROF. IR. DR. HIN YONG WONG |
| POSITION | EXTERNAL EXAMINER |
| DESIGNATION | PROFESSOR & DIRECTOR OF RESEARCH INSTITUTE FOR DIGITAL ENTERPRISE |
| ADDRESS | FACULTY OF ENGINEERING MULTIMEDIA UNIVERSITY JALAN MULTIMEDIA, 63100 CYBERJAYA, SELANGOR, MALAYSIA. |
| PHONE | (006) 03-83125418 (OFFICE) |
| MOBILE | (006) 012-2260482 |
| FAX | (006) 03-83183029 |
| EMAIL | hywong@mmu.edu.my |
| ACADEMIC QUALIFICATION | PHD |
| FIELD OF SPECIALIZATION | ELECTRICAL AND ELECTRONIC ENGINEERING |
DR JUNAIDAH BINTI YUSOF
| | |
| --- | --- |
| FULL NAME | DR JUNAIDAH BINTI YUSOF |
| POSITION | EXTERNAL EXAMINER |
| DESIGNATION | SENIOR LECTURER |
| ADDRESS | SCHOOL of HUMAN RESOURCE DEVELOPMENT and PSYSHOLOGY,FACULTY of SOCIAL SCIENCES and HUMANITIES, UNIVERSITI TEKNOLOGI MALAYSIA, 81310 SKUDAI, JOHOR |
| PHONE | - |
| MOBILE | +6019-4131967 |
| FAX | - |
| EMAIL | junaidahy@utm.my |
| ACADEMIC QUALIFICATION | PHD |
| FIELD OF SPECIALIZATION | PHILOSOPHY (MANAGEMENT) |
DR. SELVAKUMAR MANICKAM
| | |
| --- | --- |
| FULL NAME | DR. SELVAKUMAR MANICKAM |
| POSITION | EXTERNAL EXAMINER |
| DESIGNATION | ASSOCIATE PROFESSOR NATIONAL ADVANCED IPV6, UNIVERSITI SAINS MALAYSIA |
| ADDRESS | NATIONAL ADVANCED IPV6 CENTRE, UNIVERSITI SAINS MALAYSIA (USM), 11800 PENANG. |
| PHONE | - |
| MOBILE | 017-5080854 |
| FAX | - |
| EMAIL | selva@usm.my |
| ACADEMIC QUALIFICATION | PHD |
| FIELD OF SPECIALIZATION | Computer Science |
Ts Dr MUHAMMAD JUHAIRI AZIZ BIN SAFAR
| | |
| --- | --- |
| FULL NAME | Ts Dr MUHAMMAD JUHAIRI AZIZ BIN SAFAR |
| POSITION | EXTERNAL EXAMINER |
| DESIGNATION | DEAN & SENIOR LECTURER |
| ADDRESS | SCHOOL OF MECHATRONIC ENGINEERING, UNIVERSITI MALAYSIA PERLIS (UniMAP) PAUH PUTRA CAMPUS, 02600 ARAU, PERLIS, MALAYSIA |
| PHONE | 604-9885161/5224 |
| MOBILE | 6013-4172948 |
| FAX | 604-9885167 |
| EMAIL | juhairi@unimap.edu.my |
| ACADEMIC QUALIFICATION | PHD |
| FIELD OF SPECIALIZATION | MECHANICAL ENGINEERING |