eCultivate : Introduction to Environmental Social Governance (ESG)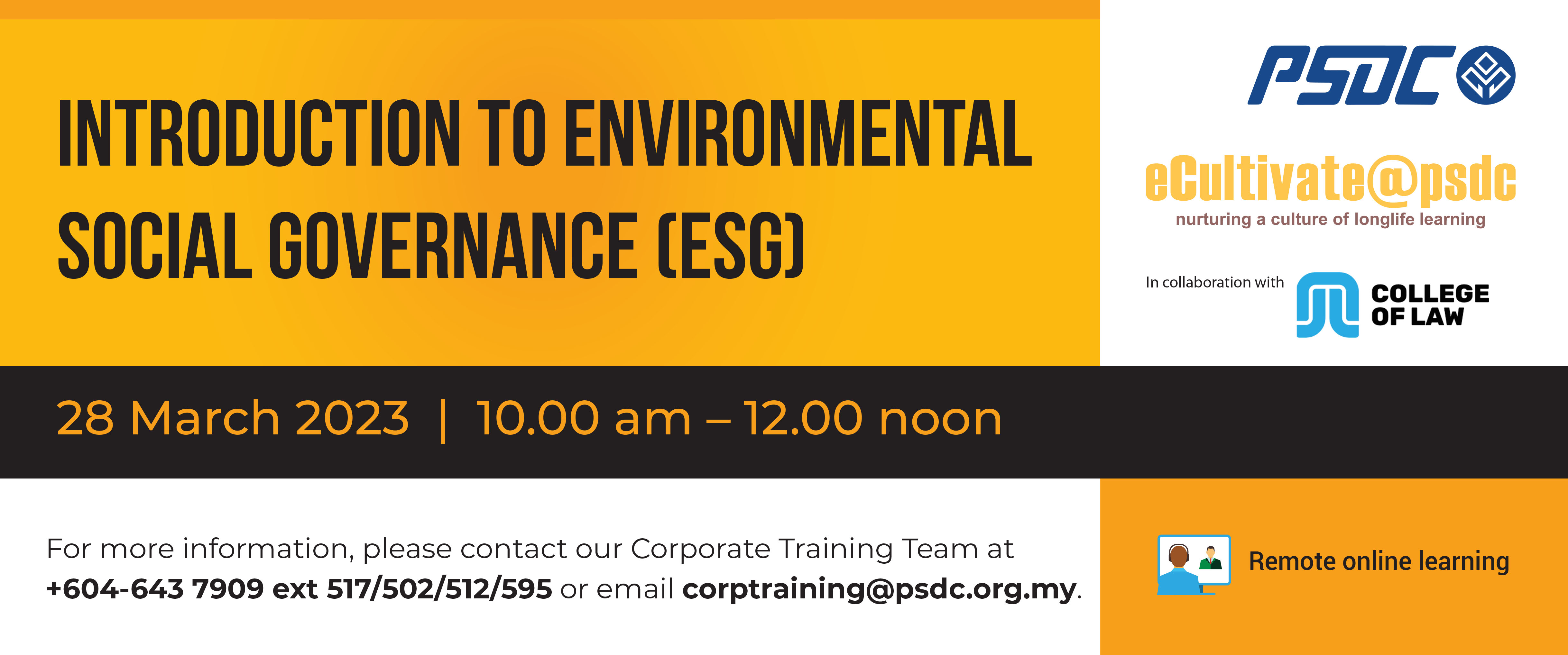 About The Event
This webinar addresses a wide range of ESG topics including practical solutions and shared experience across the ASEAN region. Attending is a must for anyone practicing in cross-border / cross-regional work as ESG increasingly comes to the forefront in investment decisions, or anyone who is involved or interested in environmental and social developments.
COURSE OUTLINE
Module 1: Developing landscape ESG frameworks in Asia
Module 2: Environmental and social safeguards for Major Projects
Module 3: Risk management across borders+ International business examples
SPEAKERS' PROFILE
RAPHAEL TAY
Raphael is a Partner at LAW Partnership, a leading commercial law firm in Kuala Lumpur and advises on various international projects, including mergers, acquisitions, joint ventures, corporate restructuring, divestments and general corporate and commercial work. With three decades of experience encompassing both local and international work, he is well-versed in various areas notably Corporate and Commercial, Mergers and Acquisitions, ESG, and Information and Technology Law.
MATTHEW BAIRD
Matthew Baird is an Australian environmental lawyer specialising in environmental and planning law, including heritage protection and environmental criminal law, with over 25 years involvement in environmental law. He has been involved in successful challenges to major projects based on climate change grounds. He has an extensive background in public participation and the due process rules relating to the assessment of major projects and critical infrastructure projects. Matthew is a Teaching Fellow of The College of Law Australia and is the Head of the new Master of International Environmental, Social, and Governance (ESG) Practice program.
HELEN TUNG
Helen Tung currently practices as a Barrister, Arbitrator and mediator.  She is educated at the University of Sheffield, University of Tilburg (Erasmus Program) and University of Law in which she obtained her law degrees. Helen furthered her studies at the University of Greenwich for PhD studies (completed coursework only) in maritime security and international law and undertook Directed Studies on International Private Law at The Hague Academy. Prior to joining the Bar she worked in both US and UK firms in London, before developing a commercial law practice with secondments in Korea, China and Japan.  Helen has over 13 years of commercial law experience and her practice has included  reinsurance, maritime law, intellectual property, employment and general commercial disputes where she advised clients in London, UAE and globally. 
MARTIN POLAINE
Martin is a practising barrister (as a member of Brooke Chambers) of approaching 35 years' experience and an arbitrator. He is a Fellow of the Chartered Institute of Arbitrators (FCIArb) and a Fellow of the Asian Institute of Alternative Dispute Resolution (FAIADR). He also teaches law (and writes courses) at postgraduate level for the College of Law Australia, where he lectures in 'International Arbitration & ADR', 'International Trade & Investment', 'Banking & Finance', 'Capital Markets' and 'Intellectual Property'.